The reopening of international borders could not have come a minute too soon for the travel sector, said ceo of Asata, Otto de Vries.
"Among the first and hardest hit by the COVID-19 lockdown, travel agencies have been working around the clock to re-accommodate travellers and deal with rapidly changing airline and supplier policies. There is absolutely no question that South African travel agents have been exemplary in these unprecedented times, which have left them with no income and very little support," he said.
With the reopening of borders, travel agencies can now help uplift and strengthen other industries by providing companies, organisations and government with much-needed travel management services. Business travel remains a crucial element for any organisation wanting to grow and expand.
"Without the travel industry, it is not possible for other industries to function, create jobs and contribute to South Africa's economy. We understand that the way people will travel will change in a COVID world and have been looking at how our business will need to adapt to accommodate these changing demands," Otto said.
His comments come in the wake of President Cyril Ramaphosa's announcement last night (Wednesday, September 16) that South Africa will open its borders for international flights on October 1.
The opening of borders will be based on certain restrictions and those countries with high infection rates may be prevented from entering South Africa. Ramaphosa said a list of the countries that fell into the high-risk category would be published over the next few days.
International travellers will also be required to present a COVID-19-free certificate that is dated no later than 72 hours within their date of arrival.
Those who do not have a certificate will face a mandatory quarantine period at their own cost.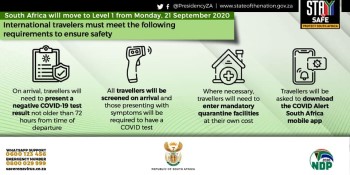 'Tourism an economic lifeline'
Ceo of the Tourism Business Council of South Africa, Tshifhiwa Tshivhengwa – who has been lobbying for borders to open to enable the survival of a sector on its knees – said in a Facebook post: "Let's go to work and welcome our international guests. The fight has been long and it's not close to be finished. Aluta continua."
He added that tourism could be South Africa's economic lifeline. "Every day we have been closed to international travel, we have lost R336m of spend and the government has lost vital tax revenue. Opening up our tourism sector will have a direct and immediately positive impact on government's coffers at a time when it most needs it."
Andrew Stark, md of Flight Centre Travel Group Middle East and Africa, agreed, highlighting that the decision by government was vital in helping not only the travel and tourism industry, decimated by months of being on hold, start to recover but the economy as a whole. "Many jobs will now be able to resume, providing much-needed income for hundreds of thousands of South Africans," said Andrew.
While the reopening of borders was a vital, positive step in the right direction, the return to regional and international travel was not going to be immediate, he cautioned.
"Airlines need months of notice before they put inventory on certain routes and before they resume full capacity," said Andrew. "There are going to be many considerations and logistics involved when it comes to opening our international air space."
He said the Flight Centre Travel Group expected regional travel to SADC countries and travel favourites –  such as Zanzibar, Mauritius, Zambia and similar – to start to recover first.
"The fact that we now have a date gives airlines and industry a chance to get the wheels in motion, so that not only can we get inbound tourists into our country just in time for the peak December holiday season, but that South Africans can reconnect with loved ones globally."
Details of the new regulations around level 1 will be published shortly.